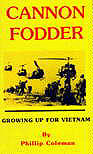 Phill Coleman: Cannon Fodder, Growing Up for Vietnam


"Dear Phil:
...Your comments are well thoughtout and I generally agree with them.
It seems to me that you have written a worthy book and I wish it success.
Sincerely,
W. C. Westmoreland (General, United States Army, Ret.)
Cannon Fodder describes the experiences of an African-American soldier's US Army service during the Vietnam War from Induction - during the beginning growth of the anti-war movement in 1968 - to Discharge in 1971 - shortly before U.S. ground forces ceased active combat operations. The principle theme of Cannon Fodder are the series of friendly fire casualties on the night of 17-18 February 1970 [*], including the devasting friendly fire attack on a classified signal unit in Bien Hoa. This work was completed in 1980 and accepted by Paragon House Publisher in 1987. You are invited to take a trip back into time and experience, or re-experience, The Vietnam War.
[*] One incident this day was captured in the CBS film "Friendly Fire" (Carrol Burnett, Ned Beatty)

---
Books that Phill Coleman highly recommends to all veterans and all present and future soldiers:
A Soldier's Story, by General Omar N. Bradley
Crusade in Europe, by General Dwight D. Eisenhower
A Soldier Reports, by General William C. Westmoreland
Please also visit the Vietnam War Friendly Fire Notebook