MORALITY,
MANLINESS AND AMERICAN SURVIVAL





Friday Evening Think Piece:
MORE WANKEL WIENIE WAGGING?





Sunday Morning Think Piece:
AMERICA ONCE STOOD FOR TRUTH, JUSTICE AND MORALITY





RACIAL PREJUDICE IS A REALITY IN AMERICA





ASA HUTCHINSON WASTE, FRAUD AND ABUSE





THE WAR WITHIN DEA Report by Gordon Witkin

THE ORDEAL OF PETER PROBST



... AND INJUSTICE FOR ONE
The Ray Tripicchio Case
First Lieutenant, Vietnam Service -- Special Agent, Group Supervisor
Denied promotion to ASAC on racial/ethnic grounds
"A Ray of No Hope"

G.A.O. SEXUAL HARASSMENT STUDY
"DEA Fails To Get Passing Grade"

NEWSWEEK DISCOVERS
GOLD IN GREEN




B. K. MARSHALL
Sexual Harassment Suit

'Copyrighting' "DEA"




The Man Who Has
The Administrator's Ear




GEORGE SOROS




THE CRACK COCAINE PENDULUM
SWINGS BACK TOWARD DEA
Deutch: "Blandon was DEA's man"
"UPDATE" ROOTS OF EVIL



DRUG WAR AGENTS BETRAYED

ASAC CONFERENCE



TOM CONSTANTINE:
Participant or Dupe?



SUBMIT OR QUIT
A Congressional audit inquiring into the justification of every transfer ordered by DEA senior management over the past three years is necessary.

GLOBAL PERSECUTION



CRANKING UP THE SPEED LIMIT

'DUMBING DOWN'
DEA'S MEDIA MESSAGE

Is Administrator Constantine Fulfilling a...

THE MARVIN SIEGEL ORDEAL



THE BUCK STOPS WHERE?
Department of Health and Human Services confirms what DEA Agents have complained about for three years

Agents Watching the Watchers: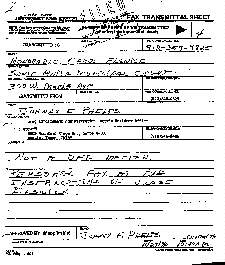 OPR/Johnny Phelps Watch








Parents Have a Need To Know



The Drug War Waits



Thomas Constantine... To Be or Not To Be
What's Opinion On His Leadership?

DEA SAC MEETING ENDS ABRUPTLY OVER CONSTANTINE CONFIDENCE SURVEY
UPDATES ON THIS STORY
DEA's Ten Finest

Watch is made possible only through your financial contributions.


WATCH welcomes information from all sources.
Established 29 May 1996

This page appears as it did in 1998


Mail:
DEA Watch
817 East Via Carmelitos
Virginia Building 319
Long Beach CA 90805-7549
Email

deawatch@americanwarlibrary.com