Copyright © Since 1988

Contact The American War Library
The information on this website is in the public domain. No permission is required to quote, use, distribute or republish.

Click Here to EMAIL THIS PAGE to a friend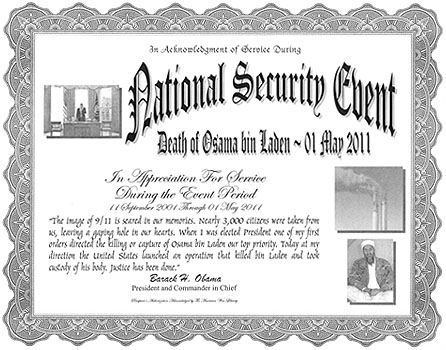 Death of bin Laden & other Free National Security Event Certificates
(This Information Site is Continually Updated.)

The Certificate marking the death of Osama bin Laden has been prepared for archival insertion into your personnel file in recognition of your service during the Event period. This black-and-white archive-copy Certificate is free and may also be framed for display in your home or office. Intended recipients of this Certificate are military, department, and agency personnel operating in any public security or anti-terrorist capacity between 11 Sept 2001 and 01 May 2011. [See Footnote]
The full-size (8in by 11in) Certificate can be downloaded 24/7 from The American War Library. Library access information is here:

http://www.amervets.com/library
Upon accessing The Library after logon follow these simple Instructions:
1. Select "Unit/Vessel/School Awards" from the Main Menu
2. Select "Personnel File PDF's of Unit Awards"
3. Select "National Security Event PDF's" section
Other National Security Event and Alert Certificates available from this Section:
Cuban Missile Crises
Bay of Pigs
Tonkin Gulf
09/11 Al Queda Attack
Fall of the Soviet Union
Invasion of South Korea
Operation Iraqi Freedom
Pearl Harbor Attack
Other free Archive-Copy Certificates will be added periodically, or upon request.
Other medal, badge and certificate Issue Regulations are here:

http://www.amervets.com/replacement/other.htm
Contact Person for this posting: Roger Simpson, PIO
Public Information Office: http://www.15624224100.com
The American War Library: http://www.amervets.com/
817 East Via Carmelitos
Virginia Building 319 Long Beach CA 90805-7549
Phone / Fax: 1-562-422-4100 (Pacific Time Zone)
Email The American War Library
---
FOOTNOTE: Because this Archive Edition does not display the name, rank or status of an authorized eligible recipient provided in the full-color Recipient Edition, collectors are invited to obtain this Archive Edition to preserve as an important hallmark in American and world history.
---