Copyright © Since 1988

Contact The American War Library
Click Here to EMAIL THIS PAGE to a friend
The information on this website is in the public domain.
No permission is required to quote, use, distribute or republish.

How you can Help Other Vets with their missing records...
---

As you know, millions of military record files were burned in the 1973 fire at the National Records Center (NRPC). Other files, before and after the fire, were lost in transit or may never have been sent by a unit or ship to The Center. The veteran's whose files were burned or lost have many difficulties filing disability claims, verifying medals, proving duty assignments and stations, and establishing proof of their testing qualifications.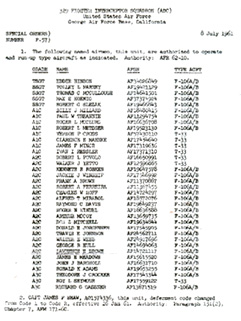 You can help these veterans simply by searching through the military documents in your possession for copies of orders, transfers and citations that list the names of others in your unit. Any document that lists the names of other people will greatly help veterans who need a copy of that document that may not exist in their record file due to loss, error, misplacement or the fire.

WHAT YOU CAN TO DO

1. Make a photocopy of every military document in your possession that lists the names of other soldiers, sailors, airmen or Marines. (These documents will also list military serial numbers. Military files at the NRPC are stored by serial number.)

2. Prepare a cover letter (or use the pre-written cover letter, below) telling the NRPC that you would like a copy of your document(s) to be placed in the record files of each person listed on your document(s). (If you can afford to make photocopies for each name listed on a document please do so that the NRPC does not have to re-copy your document(s) for each file.)

Click here for Pre-written Cover Letter for printing.

3. Mail your envelope to the NRPC.

WHERE TO MAIL YOUR DOCUMENT COPIES

NATIONAL PERSONNEL RECORDS CENTER
MILITARY PERSONNEL RECORDS
1 ARCHIVES DRIVE
ST. LOUIS MO 63138

Do not send a document THAT DOES NOT list the names and serial numbers of other people unless you want that document placed into your own military file if you have pre-determined that it is missing from your file.
---
If you have questions please email The War Library or contact a Veteran Service Officer (VSO) at your local VA facility.
---
Special Thanks to Corporal Philip G. LeDonne for conceiving this appeal.

Contact Person for this posting: Roger Simpson, PIO
Public Information Office: http://www.15624224100.com
The American War Library: http://www.amervets.com
817 East Via Carmelitos
Virginia Building 319 Long Beach CA 90805-7549
Phone and Fax 1-562-422-4100 (Pacific Time Zone)
Email The American War Library
---
Counter established 27 August 2010