The Names Who Served

---
Copyright © Since 1988

Email The American War Library | Home
GET YOUR MILITARY MEDAL AWARD REPORT> Should President Biden Reactivate The Mexican Border Service Medal?
---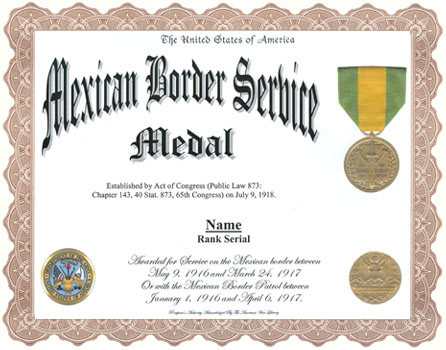 TOPIC: During WW1 Germany attempted to prevent American entry into the European War by financing activist organizations in Mexico to ignite a war with the United States for the purpose of distracting the bulk of the U.S. Army in domestic border battles. (At that time the U.S. Army consisted of approx 200,000 men and women, its total force only slightly smaller than the entire US Marine Corps today.) (Reference: "The Zimmerman Telegram".)

One of the primary propagandist tools used by Germany in Mexico was the manufactured myth that Mexico was the rightful owner of the Southwestern states of the U.S. That myth perpetuates almost 100 years later, today, among many Mexicans who believe they have the right to ignore the U.S.-Mexican border to claim employment and other benefits restricted by law to U.S. citizens. At the same time, Mexican narcotics cartels are operating without stoppage by the Drug Enforcement Administration which has not offensively worked in Mexico since one of its agents, Enrique "Kiki" Camerana, and his wife accidentally blew his cover. Camarena was captured by a Mexican drug gang and fatally tortured in 1985, over twenty-five years ago. The resulting absence of an offensive counter-contraband effort by the U.S. neglected by four successive American presidents has produced an unlimited and virtually unrestricted flow of contraband into the United States. The amount of money spent by U.S. citizens on illegal drugs crossing the Mexican border, including property losses and material destruction may exceed $1 trillion annually.
---
QUESTION 1/2: President Trump never mentioned the DEA during his four years in office and did not approve re-authorization. Should the WW1 Mexican Border Service medal be re-authorized by President Biden to award and recognize personnel operating hin harm's way to stop illegal human and narcotics traffic entering the United States from Mexico?
QUESTION 2/2: If President Biden were to re-activate the Mexican Border Service medal should non-military federal personnel, such as the DEA, Customs and Border Patrol personnel also be eligible?

Please lower your mouse then wait a moment for your info to be logged.
---
Mailing Address: The American War Library
817 East Via Carmelitos
Virginia Building 319
Long Beach CA 90805-7549
Telephone: 1-562-422-4100 (Pacific Standard Time Zone)