Copyright © Since 1988

Contact The American War Library | Wallet Card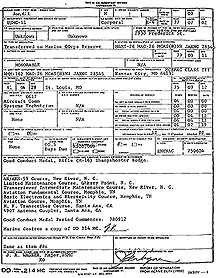 Rebuilding Lost, Destroyed, Missing, Never obtained DD-214 Military Discharge Documents
This document to be updated as needed. Webmasters, link to:
http://www.americanwarlibrary.com/personnel/dd-214.htm
INDEX
---
If your military records were destroyed in the 1973 fire at the Military Personnel and Records Center there is no other resource to obtain a copy of a lost, destroyed or missing DD-214.

To acquire a new DD-214 you will need to collect certain military documents from any available source to reconstruct a new DD-214 that can be issued by the Military Personnel and Records Center. To construct a new DD-214 you will need the following:

Copies of military orders....
TDY or PCS orders
Promotion orders
Awards and decoration orders
Travel orders
Special duty orders
Training Certificates
Performance Reports/Evaluations
Where to Obtain Copies of Military Orders

As you know, when military orders are issued they contain the names of other members of your unit affected by the same Standard or General Order affecting your promotion, transfer, etc. If you do not have copies of the above orders in your possession you will need to locate members of your former unit(s) who were listed on the same set(s) of order(s) you received when you were promoted, transferred, etc. To locate former unit members you will need to access a website or contact a veterans association that may provide the names and locations of personnel you served with. Or you may need to access a veteran locator service such as The American War Library. Another possibility is to utilize the Freedom of Information Act (FOIA) to acquire any existing military records at the Military and Personnel Records Center of former unit members whose existing military record file you are certain contain copies of orders listing your name. (It is important that you ensure another veteran's military file exists. Simply contact the veteran with a request to obtain a copy of his military file to ensure the necessary orders or documents are contained.)

When You Have Collected The Necessary Documents

After you have collected copies of the necessary documents needed to reconstruct a DD-214 you must submit them to the Military Personnel and Records Center for verification. The copies of documents/orders you submit to the Personnel Center MUST be verified and cross-checked for accuracy. If the documents are verified you will be issued a supplemental certificate you may use to provide agencies or employers requiring a copy of your DD-214.
---
Questions?

Replacement Medals and Display Recognitions

---
Special thanks to all the men and women who supplied information and recommendations making this info-site possible
---
Home |
---
This website re-established 21 December 2008