Copyright © Since 1988

Email The American War Library | Wallet Card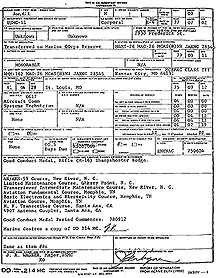 Public Posting
and Preserving Your DD-214
This document to be updated as needed. Webmasters, link to:
http://www.americanwarlibrary.com/personnel/dd214sav.htm
---
INDEX
---
The Department of Defense advises all discharged personnel to file a copy of their DD-214 with their local public Hall of Records. This is a good idea. However, because veterans change city of residence over the years, families either forget or are never told about a veteran's DD-214 location... that is, if the veteran took time to file his DD-214 with a local public office.

Currently, there is only one national agency, The G.I. Photograph Museum, where you can permanently archive an electronic copy of your DD-214. You are not required to become a member of The Museum and there is no charge to any veteran or family member to place an electronic DD-214 copy in The Museum. Also, you do not need a scanner to prepare your copy. Scanning is performed by The Museum for free.
Your posted DD-214 will be publicly accessible for downloading. You or a family member may then instruct any agency, individual or veterans organization requesting a copy of your DD-214 to download it from The Photograph Museum. Should a copy of your DD-214 be needed by your survivors or descendants, for legal, VA or personal reasons, they can quickly obtain it from The Museum 24 hours/day.
For personal security purposes, the last four digits of your Social Security number will be deleted. Also, a perpetual log is maintained on all downloads so that The Museum can identify when your DD-214 is acquired and by whom.
To place a copy of your DD-214 in The G.I. Photograph Museum, do this:
Using white paper make a clean photocopy of your DD-214.
Postal mail (do not e-mail or fax) your photocopy to:
The G.I. Photograph Museum
DD-214 for Archive Display
817 East Via Carmelitos
Virginia Building 319 Long Beach CA 90805-7549

Upon receiving your DD-214 for posting it will be scanned (no cost to you) and posted in The Museum. You may then instruct anyone requesting a copy of your DD-214 to obtain it from The Museum.

For more information about



Please Click Here
---
Replacement Medals and Display Recognitions

Home |
---
This website re-established 21 December 2008