Copyright © Since 1988

| Contact The American War Library Email | 1-562-422-4100 (Pacific Time Zone)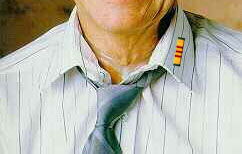 American Veterans Should Stop Being Ashamed or Afraid for Having Served
For too many decades, ever since the high point of anti-war fever during the 1960's, too many American veterans have been ashamed or afraid to display their military or war service with pride.

Last week the First Lady issued a White House declaration stating that "American veterans should be bragging everyday about their pride in having served in the Armed Forces" of the greatest and most successul nation in the history of mankind. Mrs. Obama is correct. But too many veterans still refuse, out of fear or shame or intimidation from a spouse, friends or neighbors, to return to the long-held practice of American vets in which military ribbons or buttons were proudly worn daily on the lapels or collars of proud American veterans since the end of our Revolutionary War... ending only during the Vietnam War when returning veterans, fearful of attack, ostracism or female rejection forsook their military awards, abandoning a two-hundred year custom.
The culture of shame must end. The cowardice of fear must end. Americans veterans, as veterans of all militaries of all nations past and present, stand at the top of their country's social ladder. The 1960's era campaign by military haters, draft dodgers, anti-war radicals, racists and cowards must be brought to an end... and will only end when American veterans stop showing fear of displaying their service and begin again to show pride as their forefathers and mothers who served in uniform did.
Wear one of your military ribbons or buttons every day. Get rid of the baseball cap displaying patches... you didn't serve our Nation on a baseball team. You served in an American uniform that displayed medals, ribbons, service buttons and badges.
WHERE TO WEAR YOUR MILITARY COLOR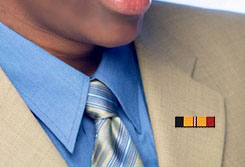 Military medal ribbons should be worn on the left suit, jacket or coat lapel, shirt collar or on the left shortsleeve.
CLOTHING THE MILITARY MEDAL RIBBON SHOULD NOT BE WORN ON
Military Medal ribbons should not be worn on T-shirts, costumes or political garments. If forbidden by an anti-military employer or a supervisor who is jealous of your military service, ribbons should not be worn at work... but donned immediately upon leaving work. Let every American who sees you see our Military and know that it is our men and women who serve and have served that provide them the freedoms they enjoy today.
WHEN MILITARY MEDAL RIBBONS SHOULD BE WORN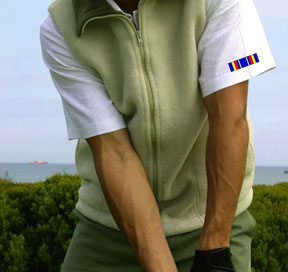 The military ribbon or button you choose to wear should be worn everyday and everywhere... but if you possess some residual phobia that prevents you from wearing a ribbon or button 365 days, a ribbon or button must certainly be worn during the full months of May (Memorial Day Month) and November (Veterans Day Month).
WHICH MILITARY MEDAL RIBBON SHOULD YOU SELECT FOR DAILY WEAR
Any Military Medal ribbon can be selected for daily wear. Ribbons representing Valor or war campaign duty normally take precedence over service ribbons. An Order of Precedence Chart is available:
A PROUD HISTORY ABANDONED BY THE FEARFUL DEMANDS RESTORATION BY THE FEARLESS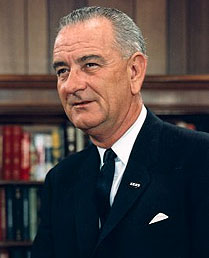 President Lyndon Johnson was the last president to wear a military ribbon every day of his life. Johnson was awarded the Silver Star which he proudly pinned on every morning. The First Lady is correct in directing military veterans to visibly restore pride in having served.

Contact Person for this website:
Roger Simpson,
Public Information Office (15624224100.com)
The American War Library (amervets.com)
817 East Via Carmelitos
Virginia Building 319 Long Beach CA 90805-7549
Telephone/Telecopier: 1-562-422-4100 (Pacific Time Zone)