Since 1988

Contact The American War Library | War Library Home
The information on this website is in the public domain.
No permission is required to quote, use, distribute or republish.

Request For
Recognition of Service...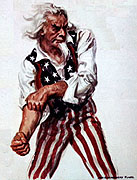 (This Information Site is Continually Updated.)
Click Here to EMAIL THIS PAGE to a friend
Appeal to State Senators and Representatives and United States Senate and House of Representatives, and Candidates
TEXT OF LETTER TO YOUR STATE REPRESENTATIVES:
(You can download the letter here and below)
Dear Honorable Elected: As you may know, an appeal to Federal Legislators to establish a Veterans Administration identification card issued to ALL former military citizens (veterans) is in progress. (americanwarlibrary.com/surveys/s-111811.htm).
However, State level governments can assist in this effort simply by including the statement: "Honorably Discharged American Veteran" printed on every Drivers License and Identification Card issued to military veterans.
State Drivers Licenses and Identification cards issued to veterans applying for their first cards should be issued without any additional fee charged for the inclusion of this statement, but it is perfectly reasonable that States require an affordable fee to veterans who wish to exchange their current Drivers License or Identification Card for a new edition that includes the statement: "Honorably Discharged American Veteran".
I recognize that my sending you what appears to be a 'form letter' constructed by Petty Officer Third Class Greg W. Colyer and The American War Library (amervets.com) be accepted by you as if it were a handwritten appeal and request for your assistance and support as my individual creation, but as Veteran Colyer's and The War Library's text simply articulates everything I would have written to you on my own, please accept this not as a form letter but as my personal and individual appeal.
Official State level recognition of military service will help our national conscience, economy and stimulate others to serve our Nation.
Thank you and Most Sincerely
DOWNLOAD THE LETTER FOR YOUR SIGNATURE
AND MAIL TO YOUR STATE REPRESENTATIVES

Contact Person for this posting: Roger Simpson, PIO
Public Information Office: http://www.15624224100.com
The American War Library: http://www.amervets.com
817 East Via Carmelitos
Virginia Building 319 Long Beach CA 90805-7549
Phone and Fax 1-562-422-4100 (Pacific Time Zone)
Email The American War Library
---
---