Memorial Day is May 31st.
Congressional Visit Day is June 1st.
All vets going to Washington DC this year should pre-schedule visits to their State Delegation offices to discuss the needs of veterans and the need to ensure sufficient defense manpower over the next generation.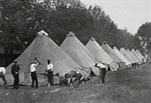 Don't Leave Town Before Sundown!
Stay an extra day. Meet with your state's House and Senate staff.