Click arrow to start 'My Country Tis Of Thee' is sung by Billy Preston
(September 2, 1946 -- June 6, 2006)
Billy's mom and he performed at the church my family attended in Los Angeles in 1968. 'My Country Tis Of Thee' was selected as the theme for Burt Lancaster's third Vietnam War film, 'Twilight's Last Gleaming' (1977)
---
Phill Coleman
(Phillip Roger Coleman)
---
Open Letter to the Leaders and Fighting Men of ISIS [12/10/2014]
---
Public Biographical Notes.
Phillip Roger Coleman currently serves as Senior Librarian of The American War Library and Editor-in-Chief of DEA Watch.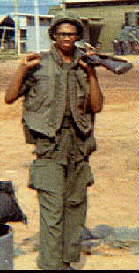 1970
Cu Chi RVN

Following ancestral generations from three continents evolving to Chicago, Illinois in 1827, thirty-eight years before the end of our Civil War and following a family tradition of every male family member serving in the United States military, Phillip Coleman served our Nation when duty called. His father, Lavalle Coleman Sr., served in the U.S. Army Air Corps during WW2 and later in the new USAF.

At age eighteen, having assimilated hundreds of years of duty, honor, country wisdom and patriotism passed down from generation-to-generation, Phill, and his brother of ten months senior, Lavalle Jr. (Terry), enlisted in the United States Army at the height of anti-Vietnam War protests in 1968. Both brothers volunteered for duty in Vietnam where they completed full, 12 month tours.

Because of his high security military occupation and combat necessity, Phill served in Vietnam prior to his elder brother Terry. Phill's combat duty was served between August 1969 to August 1970. Terry received his Vietnam orders on the same day Phill returned from Vietnam. Terry served in Nha Trang in support of the 5th Special Forces Group and other agencies between September 1970 to September 1971. After Vietnam Terry served on active duty for another five years in various Department of Defense/Strategic Air Command intelligence capacities.



1984
The Daily Breeze,
Torrance CA

Phill served as a Communications/Intelligence Specialist with the 1st Signal Brigade in Long Bihn, Bien Hoa, Nha Trang, Xuan Loc (MACV Advisory Team 87), Cu Chi, Song Be, 1969-70, and mobile duty in Cambodia, 1970. After Vietnam, Phill served in various military and civilian capacities for several federal and private agencies. In those capacities Phill was privileged to serve four United States presidents, the Defense Minister of Israel and the Prince of Wales.

In 1990, Phill Coleman's life story was acquired for feature film by Universal Studios [*], Sean Daniel and James Jacks, Producers;
John Ptak, Phill's representative (William Morris Agency).
[*] (Many thanks to John Marcello, Group Supervisor, DEA for enabling my introduction to the William Morris Agency and to Universal Studios. Immense thanks to Casey Silver, Chief of Production, and Lew Wasserman, CEO, who gave their unlimited support and confidence to the great-great grandnephew of the man, in his service with Eliot Ness, who also did the right thing for a fellow Chicagoan who vehemently opposed organized crime involvement in narcotics.) And eternal thanks to Universal Studios, for preserving the real-life history of the CI team created by President Richard Nixon, Chief-of-Staff Harry Haldeman and National Security Advisor John Ehrlichman under OP Grey Ghost, and fictionalized as OP Treadstone by writer Robert Ludlum, that terminated global threats with extreme prejudice long before they could mature to threaten others. Global terrorism and the international narcotic cartels that help fund much of the world's grief was never a problem until President Nixon and his team left office.
Throughout his public service Phill was privileged to serve with and for many fine and patriotic men and women. Of those, Phill especially thanks Harry Robert Haldeman (1926-1993) for his friendship and support; Genl J. P. Vann for sharing his car with me departing Cambodia; Col D. Hackworth for his support during a law enforcement betrayal period; and Genl W.C. Westmoreland, a regular GI, who was immense support during my return from Vietnam, and whom continued to teach me a lot many years after 'Nam. And always first and last, SSG Barry Lee Levin, a fellow Chicago homeboy from the Jewish side of the tracks who endured serious combat in 'Nam but 'never left the jungle' when he returned home.
Phill also thanks his former business partner (Ref: Women's Wear Daily", 01/04/1983), Mary Catherine Flint, for her devoted help and support during his continued federal service... and never asking any questions.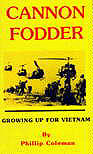 Phill currently serves as Senior Librarian of The American War Library and Editor-in-Chief of DEA Watch. The American War Library debuted online on 04 July 1988, thanks to a grant from the Defense Intelligence Agency with relation to Phill's work on MilNet which later evolved with Senator Albert Gore Jr's guidance into the current Internet. The American War Library today remains the world's largest online military personnel information database with over 91 million personnel and unit listings to ensure the eternal preservation and history of America's warriors who served to ensure our Nation's survival. DEA Watch, established in in May, 1990 (modem) and internet (1996), serves as the daily voice of America's Drug Enforcement Agents.
Born at home, 5:01am, 27 January 1950
Parents:

Lavalle Sr (US Army Air Corps, WW2; US Air Force Korea)
Fern Virgil Gentry Coleman

Birthplace: 6749 Champlain Street, Chicago IL; Familymembers continue residence (7932 S. Champlain).
Military Service: United States Army; Enlisted 10 Oct 1968; Honorably Discharged 3 Sep 1971
Military War Service: Republic of Vietnam, Cambodia, Laos, 1969-1970
Military non-War Service: Germany, France, England, Russia, Canada (transit), Spain (transit)
College: Pre-Medical, Cal-State Dominguez Hills
High Schools:

Paul L. Dunbar HS Chgo IL
J.P.DuSable HS Chgo IL
Three Oaks HS, Three Oaks MI

Religion: Catholic
Marriage: 1971, Divorced 1975
Children: None
Family nationality heritage: Africa, Germany, Ireland
Ancestral religious heritage: Presbyterian, Jewish, Catholic
Vietnam Units: 1) MACV Advisory Team 87; 2) 1st Signal Brigade
Preferred musical selections:

Handel's Messiah
My Country Tis of Thee.
American Patrol
Ballad of the Green Beret
As The Army Goes Marching Along
Gary Owen.

Favorite composers:

Handel
Mozart
George M. Cohan
Lennon/McCartney/Harrison (attended Beatles concerts in 1964/1965 Chicago. Thank you, Chicago Sun-Times).

Favorite Presidents:

Abraham Lincoln
Franklin Delano Roosevelt
John Kennedy
Richard Nixon

Favorite Military Commanders

Epaminondas
William T. Sherman
George S. Patton
Dwight David Eisenhower
Omar Nelson Bradley
George Catlett Marshall
Col. David Hackworth, who supported me during a legal challenge
MGenl John Vann, who gave me a lift in his vehicle when I was walking alone on a highway from Chu Lai after Cambodia
William Childs Westmoreland, who was the best boss I ever had
Walter Bedell Smith (a devout white supremacist but a superb mission implementer both for Eisenhower and later as the first DirCIA)

Favorite Films:

Apocalypse Now
The Gallant Hours
Hearts and Minds
Northwest Passage
Objective Burma
Platoon
The Greatest Story Ever Told
The Lathe of Heaven (1979)
They Died With Their Boots On
Training Day
Darkest Hour (Winston Churchill)
and, of course, The Jason Bourne quartet starring Matt Damon

Favorite TV Station: Turner Classic Movies
Earliest childhood memory: Meeting Joe Louis
Greatest privilege: Having a living relative who was born a slave

Member: Disabled Veterans of America
PHOTOS
Phill's base unit in Bien Hoa, Republic of South Vietnam
Company A/44, 36th Signal Battalion

A selection of print articles by or about
Phill Coleman...

This listing does not represent all of the previously published material. Other articles may be obtained via Lexis-Nexus.
---
Phill's military decorations
Meritorious
Unit Citation
1st Signal Brigade, Vietnam
National
Defense
Vietnam
Service
Vietnam
Campaign
Cross
of Gallantry

BONUS MARCH II: Bridge 2000


Some of Phill's favorite sites on the Web...


E-mail
---
The American War Library
817 East Via Carmelitos
Virginia Building 319
Long Beach CA 90805-7549
Phone/Fax 1-562-422-4100
---
Site established June 10, 1991

<! NOTES> <! pcole.ori is raw file; 040822 script section added (pcole.scr)>